December 2007 - March 2008
Scott Update
By some complicated sequence of events starting with John Daly being disqualified for not showing up on time for the Arnold Palmer Invitational Pro-Am, Scott gets to work this weekend as Peter Lonard becomes part of the field. Read all about this and Rick Debonis's Florida visit and more on Scott's page.
How Aware Are You?
This little test will test you power of observation. It's really neat and easy. You just have to count the number of times the white team passes the basketball. You'll be amazed on how hard you have to concentrate to get it right. You'll probably watch it twice because you will think it's a trick. Click here to take the test.
Paddy's Retirement Party Not Dampened By The Snowfall
Last night, despite a major snowstorm in a winter that is very likely to set a record, a few brave souls shovelled their way to the Tartan Pub to celebrate Paddy Dore's long awaited retirement and his 60th birthday to boot. The roads last night were awful and almost anyone who drove home had to have their cars pushed at one time or another. Click here for lots of pictures including the walk home. If we had a car, there is absolutely no way we would have made it home. For you people down south, stay as long as you want because it's supposed to snow again this week. Congratulations to Paddy on a great career and a well deserved retirement although it doesn't look like the golf clubs will get a real tryout until July.
Vote for Your City for World Monopoly
There are only 2 days left to vote for your city to get into the World Monopoly board. In order to make it fair you do have to register your e-mail address to vote. At this point, it looks like Montreal will be getting in but you never know. Click here to get to the voting screen. They have removed the current standings in order to add suspense. Two-Mountains is not a write in vote but Winnipeg and Quebec City are. San Francisco somehow is also a write in vote which I think should have been a regular city choice.
A Funny Little Video and a Great Dictionary Site
This site was forwarded to me by Mike C. It's funny and an interesting use of dynamic video. On this site, there are four fields to fill on the first screen. Leave the last two blank but write in your name in the first field and your best friend's in the second, then press "vizualizar". The resulting video is pretty funny.
Another interesting site that I saw last week is a free dictionary site with a lot of word games on it. My favorite is the spelling bee and the word match is quite difficult. Here it is. I will put it on my favorites page shortly.
Why is Easter So Early?
And when will it happen again? Diana Jean sent me this explanation of when Easter happens this year. It's very precise and easy to understand explanation. I thought I would pass it along.
Easter is always the 1st Sunday after the 1st full moon after the Spring Equinox (which is March 20). This dating of Easter is based on the lunar calendar that Hebrew people used to identify Passover, which is why it moves around on our Roman calendar.
Here's the interesting info. This year is the earliest Easter any of us will ever see the rest of our lives! And only the most elderly of our population have ever seen it this early (95 years old or above!). And none of us have ever, or will ever, see it a day earlier! Here are the facts:
1) The next time Easter will be this early (March 23) will be the year 2228 (220 years from now). The last time it was this early was 1913 (so if you're 95 or older, you are the only ones that were around for that!).
2) The next time it will be a day earlier, March 22, will be in the year 2285 (277 years from now). The last time it was on March 22 was 1818. So, no one alive today has or will ever see it any earlier than this year! Thanks Diana for the interesting piece of trivia and finally getting the rules straight.
How to Disappoint a Customer (Updated)
Most of you have noticed that I now publish all my photos using an external website called Phanfare. Today I received an e-mail from the founder and president of Phanfare, Andrew Erlichson. It was about the new version of the product, Phanfare 2.0. At first I was excited that somehow the service would be improved and that there would be more features. In my opinion, Phanfare was already the best looking picture and video delivery tool out there and mostly it was saving me hours of work to publish albums to what looked like an extension of my website. Anyway, the 2.0 announcement was way too lengthy to be good news. Well, it wasn't good at all. They will be upgrading everyone to version 2.0 by June and this will mean that anyone wishing to see these pictures will have to get a free account from Phanfare. This means getting yet another userid and password. No way that I will publish my pictures on a non-public site. I might have to resort to my old way of delivering slideshows which will not be as nice as Phanfare and will not be as easy to update on this end. One really bad thing is that by June, any links to Phanfare in these pages will not work so I have to look for a solution soon. If you have any suggestions to an alternate site or software that will easily publish to a website, please let me know but please don't refer me to websites that will require registration. Phanfare is still a great product, except that I do not want to share photos by inviting people through sending e-mails. That model doesn't work for 2mopaul.com. UPDATE. I sent my concerns to Mr. Erlichson and he sent me quite a thorough reply explaining his new business model. There may be a chance that something can be worked out. I certainly hope so as I really like this product. We will see soon.
Tartan Supper This Friday
I know this Friday's supper at the Tartan Pub will be special for someone. No, not because it is the last Friday February 29th until 2036. Not because it's Henri Richard's birthday or because Dinah Shore would have been 23 and certainly not because Ja Rule will be 8. No it is because when Paddy Dore walks into the Tartan Pub on Friday, he will have just finished his last day of his 40+ year career at Marconi. Paddy has been looking forward to this day for a while and when the whistle blows on Friday, he'll be driving home from work for one last time and enjoying his first retired beer. He might even feel good enough to sing a song at Karaoke. If you want to see a happy person, drop in. Many other happy people will also be there to toast him.
Too Much Snow? Think of Summer
Summer can't be that far away. The registration for softball is just around the corner. D.M.S.A. Deux-Montagnes Softball Association is holding its annual registration for kids and adults. The registration is on the two Saturdays March 8th and 15th at Olympia Park. For full details (Prices, age groups) click here.
Hockey Season Starting to Heat Up
The weather is not the only thing heating up. Hockey season is coming to a close. The Canadiens are in a better position than they have been in years and the LTHC Mondays and Fridays only has about 6 games left each. This year there is no Boston trip for the LTHC and it looks like they are not coming up here to defend the title. Right now, there is serious talk about playing for the North-American Cup in a golf venue. It looks like a golf match may be held in St. Johnsbury Vermont, a kind of half way point between Boston and Montreal. The tentative date is Sunday June 8th. This does not replace the Wyder Cup which will probably be August 15 and 16. Stay tuned for confirmation of both of these events.
Many of my regular readers still play 'oldtimers' hockey. The LTHC average age is easily up in the 50's. There is a really good book about our type of hockey. It is written by Bill Gaston who is now in his mid 50's and still plays 'beer' league hockey. The book is called Midnight Hockey: All About Beer, the Boys, and the Real Canadian Game. If you've ever played hockey in a 'garage' league, it's a must read. It's available on Amazon here. There's an interview with Bill Gaston on YouTube here.
Coming Soon In 2mo
The 2mo calendar is starting to heat up again. As people are thawing out and summer is approaching, the list of activities seems to be rising in Two-Mountains. I try to keep up the 2mo calendar up to date however I am not aware of everything that is going on. If you want anything posted I will gladly do it. One thing you will notice on top of my calendar page (the link is on the bottom left) is a link to a monthly newsletter written Julie Laver who also writes in the North Shore News. Julie has a large distribution list that she sends this newsletter and from now on when I receive it I will post it in PDF format on the calendar. You will see that it contains a lot more information about events that I can put in my pages. February's issue is 16 pages long so it does take some time to load if you don't have a high speed connection.
Wednesday Night Show in the Sky
On Wednesday February 20th, we will be treated to a full lunar eclipse. It can be seen all over the Americas, if the clouds don't get in the way. The show starts at 8:43pm EST with the moon in totality for about 50 minutes starting at 10pm. Click here for all the info from NASA. If it's cloudy in your area, you can always see a live webcast here. Chances are that this site will be cloudy too.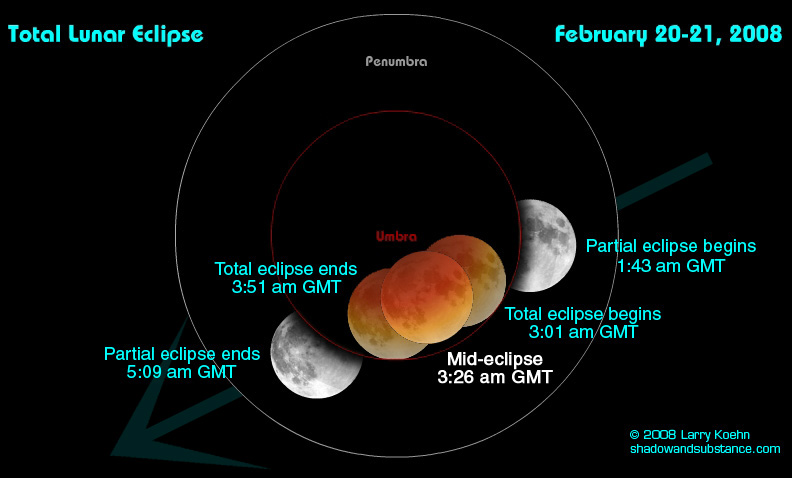 Potato Cakes Are Ready for St-Patrick's Day Celebration
The annual potato cakes preparation team was busy on Sunday February 17 making over 1000 potato cakes for the March 17th celebration at the Fitzmorris household. Here are some pictures of the beginning of Saint Patrick's Day activities. The actual count this year was 1003. It's not a record but I believe this is only the 2nd or 3rd time with a 4 digit count. Click here for a picture album containing all the activities for the 2008 St. Patrick's 'Season'. Once again, the band SquidJigger will be playing at the Tartan Pub on Saturday March 15th. I am sure that everyone who saw them play last year will be back as this was a grand evening of entertainment and fun. Check the 2mo calendar for more info.
Karaoke Friday Night Lights
The first Friday night Karaoke at the Tartan went off without a hitch except for a few lost voices. Here are a few pictures of the evening, press Start Slideshow for best results.. Gordon will be back this and every Friday starting at 9pm.
Scott Martin Finally Gets to Work on a Weekend
Peter Lonard finished 13th on Friday in the Northern Trust Open. This is the first cut since August that he has made while Scott has been on the bag. He's 7 strokes becPhil Mickelson but anything can happen at Riviera. The weather is good in L.A. so it should be a good weekend. Click on Scotty's link on the left for a Friday update.
Karaoke Friday Nights Begin at the Tartan Pub
Just when you thought you had to drive to Ste-Marthe for Karaoke, the Tartan Pub will be welcoming Gordie and his over 20,000 song repertoire this and every Friday. 20,000 songs. It's not a typo. Starting rehearsing and if you need to soothe your throat, there will be a special on Coors Light bottles. 2 for $5. Even if you don't sing, you might want to take advantage of the special. This is the first step in establishing the first Tartan Idol. We all know who holds the current Tartan Idle title. This will be a return appearance for Gord who worked his magic over 11 years at the Tartan under the previous management. As you will see the days of the VHS cassette are over.
An LTHC First
Click on the LTHC link to read about something that has never happened in Laval Teachers Hockey.
Press '9' for English
I don't know how many of you caught this in the newspapers, but yesterday I read an article in the Globe about the fact that all the government services in Quebece to press 9. This is supposedly to protect the French language. I know what all you folks that moved out of Quebec and stay in touch using this website are feeling right now. TGWMA (Thank God We Moved Away). My mother tongue is French, but I find the militants who pushed for this change are going a bit too far. Even a early message in French saying to press 9 would be enough for 99% of English callers. Wouldn't this be a compromise that wouldn't threaten the language? This type of intolerant attitude makes me embarrassed to even admit that I have French Canadian roots. Sorry to all my French Canadian readers but I am very intolerant of intolerance. Pesez Alt+F4 pour fermer cette page.
I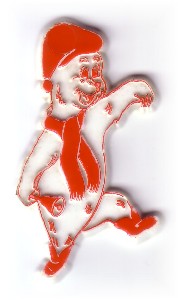 t Could Have Been A Tri-Dance
Many of my 'older' readers remember the Two Mountains Carnival Dances. Well, last night could have been one of those nights except that three different events happened at 3 separate venues. I think a central social coordinator should be found to prevent these conflicts as there's probably nothing going on next weekend. Regardless, last night would have been perfect weather to jump on a hay ride between venues. Back in the 60's to the early 80's, many of you attended the famous Tri-Dance between the Gyro, Legion and Holy Family hall. Does anyone remember the Quad-Dance and the few Bi-Dances? I could only attend one event last night which was the LTM Casino Night to raise funds for 40 lucky students who are leaving for France and Spain on February 28th. Here are a few pictures of the night which we started with a visit the the Lotus Sushi restaurant. Maybe next year, the planners of February events in 2 Mo will get together and perhaps revive the Tri-Dance.
What A Game!
My sympathies go out to my Boston friends who are waking up this morning with a hangover and the realization that they are not perfect. It was one of the best and most unpredictable Super Bowl games ever. Many 100 square pools were on and I made a 16 question one. Here is the winning ballot with an amazing 13 of 16 correct predictions and the rest of the results. And if you want to see pictures of the Tartan Pub action click here.
An Aspiring Author Among Us.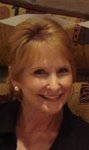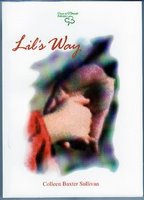 Many of my readers have seen pictures of Skitz on this web site. Some connected to the SOMD touch football and some from various evenings at the Tartan. 2 things you may not know about him is that his real name is Derek and that his mother, Colleen Baxter Sullivan, is on the verge of having a book published with fingers crossed as she puts it.. Those who know her have routing for her as we know how passionate she is about being published. Actually finishing a manuscript is a tough job in itself but breaking through in the publishing world is proving to be tougher. Nevertheless, Colleen is pleased to have finished step one which is writing the novel called Lil's Way. Colleen has a blog that describes how she got where she is now. It's a very interesting read. Check it out here and Good Luck Colleen on seeing your dream come true.
Is Winter Really Over?
Wiarton Willie seems to think that. Here is the link. Speaking of links, I have a new page of my favourite YouTube Videos. It does have many links yet but I put a few in to start. One of the reasons I am doing this is that it might save some e-mail space. Whenever anyone send a video in e-mail, it is usually large and sometimes hard to open. So far, I have always (never not) found that video on You Tube. It's a lot easier and faster to send a link to a video than the video itself. So when I receive a video in e-mail that I like (a lot) I will put the YouTube link on my page. Click here for my favourite YouTube moments page. I will put a button later for a direct access to that page. So if you have good YouTube links, let me know and I will post them.
Derek Celebrates His 50th With 2 Parties
Derek Fenn turned 50 on Friday January 25th. The Tartan Pub management made sure that a dinner was planned for that evening. They all dressed up in Montreal Canadiens sweaters and presented Derek with some Canadiens apparel and brought out a big cake. It didn't finish there however because the whole family was in to celebrate Derek's 50th and the party restarted on Saturday at Annie and Bill's. There Derek got more gifts including and personalized Canadiens sweater as well as a logo watch and many more things and a second birthday cake. For a slideshow of all the pictures click here. As usual, press Start Slideshow for the best results.
Golf Season Starts Early
On a chilly winter Saturday (January 19 (minus 20)), A few of us went inside to play a little golf. We went to Golf-O-Max on industrial boulevard in St-Eustache and played the Torrey Pines South course to prepare for the Buick Invitational being played this week. If was a good time had by almost all. We are planning a mini tournament on Saturday February 16th at 10 pm. Let me know if you are interested. Here are few pictures from last week's practice round.
Valentine Dinner and Dance
On Saturday February 9th, if you are not attending the LTMHS Casino Night, you might be interested in the Valentine's Dinner and Dance at the Senior's Club on Cedar. Jim Brown and Blind Sight have been lined up for the entertainment and a BBQ Steak dinner is waiting for you. Click on the calendar link on the bottom left for ticket info.
Stan Rogers - One Warm Line
I am not sure how many of you are familiar with Stan Rogers. No he's not a hybrid of LTM ex-principals Stan Alexander and Keith Rogers. He has nothing to do with Two Mountains. He was born in Hamilton and died in 1983 at the young age of 33. He was one of the 23 fatalities of the Air Canada DC-9 flight 797 fire that had to do an emergency landing in Cincinnati on its way to Montreal. I had heard his music long ago but really got to know more a few years ago. I stumbled into a rare 45 minute documentary video that happens to be available on Google video. If you know him or if you like folk music, you will enjoy this video from the early 80's. Here's the link. Stan still has many fans around the world. For more info visit: http://www.stanrogers.net/
Latest Trend in Computer Viruses
l read a couple of articles in the newspapers this week about a new breed of viruses that can sit dormant in your system and intercept the data you could be sending though your on-line banking transactions. This data is sent to people that could potentially go into your account and have their way with your money. It happens but you can certainly make it harder for you to become a target. It's much like protecting your car from theft. If yours is a little harder to steal than the one next to it, then probably your car will still be there when you come back. The obvious protection measures are to have your virus scanner software receive updates as often as they are issued and to be careful when accessing e-mails from people you don't know. Now though, some viruses are simply loaded when you surf certain 'legitimate' web sites. One little thing to watch if you do some online transactions is the little padlock at the bottom of your screen. You won't see it while looking at this site because you cannot enter any data on my site but whenever you supply a password for any kind of transaction you should be on a secure site. You will know by the lock at the bottom and the address on top should start with https. This means that your data is encrypted and even if it get intercepted, it cannot be deciphered. HOWEVER this does not mean that the site you are on is legitimate. Fraudsters are now using secure sites to lull into a false sense of security You should be aware of your surroundings on the internet just like you would if you were walking down any street. To read more about the new trend, please click here for the Symantec (Norton) article. Whenever I refer you to external websites, I do my best to make sure they are safe but tread carefully. Take this Cybercrime test on the Symantec site. After answering 10 true or false questions, you will see how well you are protected and learn a couple of things on the side.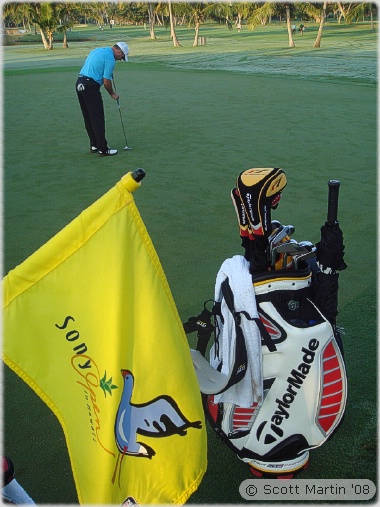 Victims of the PGA's New Cut Rules
Those who follow golf may have noticed that 18 players that made the cut after the first 2 days of the Sony Open did not play on Saturday. It because of the new cut rule that is designed to not have too many players play on the weekend. Normally the top 70 scores and ties make the cut. But if that results in more that 78 players then they officially make the cut but cannot play the two last rounds. This weekend players like John Daly, Charles Howell and Angel Cabrera were all victims. It's a complex equation and you can read more about here if you are interested.
Scott Back After Well Deserved Rest
Two-Mountains' own Scott Martin is back caddying on the tour with Peter Lonard after a timely and deserved rest period of 4 months. Although not a complete rest as there were many other things going on, it was a rest from trying to come up with something to write about. I know how he feels. Anyway, he he now back in full force and in a great place, Honolulu, Hawaii where the first full field event, the Sony Open is being held. Oh Hawaii! After our visit there last year (click on the smiley face in my logo to see more), I would go back there in a heart beat. To get to Scott's page simply click on the link on the right. I am sure many of you have been waiting a long time for an update.
2mopaul.com Now on Every Continent
As you can see by the little map above, people have been visiting 2mopaul.com from every continent (except the cold one down below). There are now hits from Egypt, Japan, Finland, Switzerland, Bermuda, Malaysia, Thailand, Hong Kong, Peru, Bolivia. Of course, Churchill Manitoba, Calgary, Florida, and a couple of places in the mid west are still going strong. If you choose the 'Map with smaller clusters' option you will get a better idea where these hits are coming from. To everyone around the global village, thanks for visiting! You can click here to go directly to map with smaller clusters.
Helicopter Crash On the Lake
A small 4 seat helicopter carrying 3 people crashed on Friday January 4th around 4pm. The three aboard, including the pilot's 15 year old son, were critically injured but their lives are not in danger. Here is the Gazette article. One article on ctv.ca mentions that the helicopter was partially sunk through the ice. That is not really true although as you will see on some of my pictures, the initial impact did put a hole through the ice but the copter bounced out of it. With the weather going up to 10 degrees in the next couple of days the already thin ice will make it virtually impossible to get any kind of truck out there to remove it. According to eye witnesses, the pilot was flying very low and doing 'stupid' things when one of his skids hit the ice. Here are my pictures of the crash site. If you want to see it in person (too late they removed Saturday, thanks Mike), it was right behind the 24th avenue filtration plant. In case you are wondering what a copter like goes for, the going price for a 2008 Robinson R44 Raven II is just above $400,000. I am not sure what this one is now worth, if anything. Want to buy one? Go here.
Look What I Found
Searching for a happy new year gif to replace my Santa on the top left I found the gem on the right. The best part is that they wanted comments so I sent them one. My wish for you, Learn to write.
Still Looking for A New Year's Eve Party?
The Legion Hall is having a party featuring the band Stagecoach as the entertainment. Click the Legion icon above for details. There are also a couple of other parties in town at the Holy Family hall and I think at the Senior Men's Club. I have no details. I do know that there won't be a party at Baby Boomer as it seems to have closed its doors since December 20th. Not sure if it will reopen soon, I will try to keep you posted on that one.
Wednesday Darts a Hit on Friday
The tradition of a mixed dart tournament on the off week of the Wednesday Night Dart League continued this year with a twist. Since Wednesday was too close to Christmas, we decided to move it to Friday which worked out very well if you look at the attendance. On Friday December 28th, 37 players showed up for the 20th version of this Christmas Classic (19 women and 18 men). In the end, Cheryl Morrisette and Paddy Dore took the honours beating out Karen Geary and WNDL president Paul Fougere in the final. The tradition also includes a pre-tournament supper that 21 people attended across the street at the Lotus Sushi Restaurant for the first time. If you are not a fan of sushi do not let the name of this restaurant keep you away. They have excellent General Tao chicken and it's bring your own wine and other select beverages. Click here to view a slide show.
Almost Back to 100%
It's hard to believe but only a week after surgery, I am basically back to normal (I know what you are thinking). I have taken very little medication for pain and everything is looking good so far. The stitches are still there but other than that it is really amazing. Today I had a project to do. It was to see how well converting slides to digital pictures would be. I have over 1500 slides from the mid 70's to the mid 80's and they were gathering dust. So I took out a few hundred of them and tried it out. The result is fairly good although I will try a few other methods. I know of a few professional places that do this and charge about 50 cents a slide. They do a good job but sometimes the source is not good which makes the result not that good.
I will let you be the judge. I have put 2 of those slides in my picture of the week (the POM logo on the top). Gentlemen will appreciate the second one. I took these pictures many years ago but they are pretty good, I must say. Obviously not of the quality we are now used to, but worth the gander.
Christmas Eve Barred Owl


No, this owl is not barred from celebrating Christmas. It is called the Barred Owl (Strix varia) also known as the hoot owl. It is a common owl yet I had never seen one and this picture was taken on second avenue in Two-Mountains. To anyone who remembers the St-Eustache-sur-le-lac golf course, this picture would have been on the second tee amongst the pines lining the tee. Simply click the picture to enlarge it. To find out more about this owl click here.
The Day After A Laparoscopic Cholecystectomy
Some of you know about this and some of you are about to find out (if you want). Yesterday, December 21st, was a different day for me. I had my first 'real' encounter with being in the hospital. A few months ago, I got diagnosed with gallstones after having what I thought was bad indigestion. Right after the 3rd attack, I consulted a doctor and within 4 months I was scheduled for surgery. If you want to know more, click on the 50 road sign above. Chapter 3 of my 'road from 50' contains an article and many pictures of the day at the Jewish General Hospital. For some reason, the top of my page had disappeared. Here's the link if it does it again.
A White Christmas Indeed
I have put a together a short video to compare last year's green Christmas to this year's. You can view it here. Press play, NOT Start slideshow.
Holy Family/St-Agapit Fire Video
A few weeks ago, I promised you a video of the Holy Family / St-Agapit fire. The video is an excerpt from a production that Russell O'Neill made for the 50th anniversary of the parish. The full video lasts over 15 minutes but I had to cut it down to mainly the fire because of size. The original 8mm footage was taken by Mrs. Susan Plumpton who now resides in Victoria B.C. She did an amazing job in capturing the fire and she is very good at describing that fateful day in 1961. Thanks to both Russell and Susan. Click here to view the video. Thanks to Frank Hutchison who lent me the DVD and obtained permission for me to post it.
You will notice a second video on this link. It is my first attempt at time lapse photography. What I did in anticipation of the 'big' snow storm on the weekend is point my camera out onto my balcony for the duration of the snowfall. It took a picture every minute for 13 hours for around 8:30am to 9:30pm when it stopped. This comes out to 2 seconds per hour. The result is not very dramatic as the wind was so strong (at one point it blows the top off my bird feeder) that there was virtually no accumulation of snow on the balcony until much later when the wind died down. You can notice on the table at first that the snow keeps blowing off. You will also notice many brave birds that are weathering the storm and feeding on the balcony. That's because every hour of so I would throw out a new batch of seed that kept being buried. I have another video that I may post a little later. It didn't work out as well as I anticipated but I will explain when I post it.
A Cute Holiday Greeting
Bobbi (Stevenson) Murray sent me a link to innovative holiday card put out by BC Hydro. Visits too this card will make BC Hydro donate money the the BC Children's Hospital Foundation. Give it a try here. It's takes a little long to load but be patient.
I Am Off Facebook
Sorry peoples, but I had to deactivate my Facebook account. There were many reasons for this but it got to the point that opening my e-mail was no longer enough because half of my e-mails said I had a something waiting in Facebook. If it wasn't an e-mail it was a FunWall or a Super FunWall request and it seemed every time I went in, I would have to add a new application to FB to look at something. There are thousands of third applications inside Facebook and some of you may have heard that some third party applications went a little overboard on the privacy issues and started posting online purchases on people's profiles. Also some of the applications like Fun Wall would take forever to open for no reason. This was frustrating, so I tried to erase my account completely from Facebook. No can do. You simply deactivate it and the account will reactivate the next time you log in. I'm not really happy about that because my profile still sits there. Fortunately, I hadn't put too much information on it. Anyway, if you want my facebook, it's here at 2mopaul.com and if you want to reach me, the e-mail button at the top sends me a direct e-mail without me opening up another application. Bah Humbug to Facebook and mySpace while I'm at it.
Olympia Entertainment Schedule Released
At first, I was very disappointed that they was no show in this spring's line-up that the English community of Two-Mountains but I now see that there is one show on May 10th that should be a doozy for Blues' lovers. The main attraction will be Ronnie Baker Brooks. Ronnie (not his brother Lonnie) will be headlining on the Olympia Theatre stage. There are plenty of good seats left. You can order through Admission but they are pretty greedy with their service charges. Your best best is still going to the Arena and seeing where the seats are in person. If you want to save the gas, here is a link to the Olympia Theatre seating chart to help you book online here. Link is now working.
Elf Yourselves and Turkey Dinner
This has been one of the most popular holiday sites in the past couple of years but if you haven't seen it yet it's pretty funny. Kevin D suggested I post it and then the next day someone sent me a reminder of the office party. You may only recognize one of the elves. Click here. Another funny website I got was the European Turkey Dinner which is an ad for Rail Europe. Just choose any destination. Click here
Peter Lafrance 1982-2007
In Montreal, originally from Deux-Montagnes, on December 4, 2007 at the age of twenty five, passed away Peter Lafrance. Beloved son of Sandra Scott and Jean Pierre Lafrance. He leaves to mourn his brothers Michael and Brian, his aunt Bonnie Scott, as well as many relatives and friends. Family will receive condolences at Salon Funeraire Guay Inc., 1004 Chemin Oka, Deux-Montagnes on Tuesday, December 11 from 7 p.m. A prayer gathering will be held at the Salon at 9 p.m. (Montreal Gazette 08-12-07). Click here for the obituary in the Gazette
My heartfelt condolences to the family.
You May Have Money That You Don't Know About
No, this is not about getting a cheque from Bill Gates for forwarding e-mails (How gullible are you?). This is about a Revenu Québec registry that has an inventory of many dormant bank accounts and various other holdings in limbo. I found an account with a three figure amount in it that my late father had years ago by searching Goyetche. Since I was the executor for my father's estate, I will have to claim it and split among his heirs.
Unfortunately, I can't find an English version of the link but it's pretty easy to use. If you do find something that belongs to you, I am entitled to 10% of it or a beer, whichever is the lowest. The link is here. Good luck finding your buried treasure.
PGA Pool Picking Party at Pub
The boys all got together on the first Saturday in December as usual to pick their teams for the following PGA season. The only change was the Tartan as a venue. So instead of coming to the Tartan from Stan's house at 6, the whole thing was at the Tartan. It was a fine day which started fine for my team as we got first pick. Of course Tiger went right away although Steve Stricker was picked only in the second round. Here is the full line up and here is a slideshow of the proceedings and subsequent activities that lasted well into the morning. Do a full screen view on the slideshow for the best results.
I Got the Giggles
This morning on the train to work, I was reading my Montreal Gazette as usual and turned to page 8. I looked at the picture that was there over an article on the Bouchard-Taylor Commission. For those who are not familiar with this, it is a series of town hearings across Quebec on the subject of reasonable accommodations for immigrants. This particular article was centered around a delegation of orthodox Sikh's calling for Christmas trees to be banned from public institutions and the wearing of the kirpan dagger in schools and such things. Anyway I had not read any of the article yet but I was looking at the picture and was reading the caption underneath it. I was sitting amongst people I didn't know on the train but when I saw this picture and caption I started giggling like a school girl. I read the related article which made no mention of the mouse which I think made it even funnier for me. Click here to view the picture and caption. If you want to know more about the commission, here is the link.
I hope this does not offend any of my new 'international' readers as I just thought it was funny. With the uproar in the Sudan now, over a grade school teacher naming a stuffed bear Mohammed, it seems that this world has gotten just a little too sensitive. Drop me an e-mail on what you think of this picture.
Couple of Links to Visit
Here is a youtube link to a real funny bit by Jim Breuer, ex SNL Goat boy. It might help your drinking pattern for the holidays. If you like space and want to see great pictures of the shuttle at work, click here.
How Fast is Your Internet Speed?
I just watched Marketplace on CBC and the whole show was about what you are getting when you pay for High Speed Internet. The test were based in Toronto but were probably indicative of other areas. I don't think all the tests were really fair. For example, they downloaded iTunes using Sympatico High Speed in 2 hours and 40 minutes and I just did it in just over 4 minutes (also using Sympatico). I know that's slow for some of you cable guys but considering I am over 5 kilometers from the Bell C.O., this is quite remarkable. Anyway, if you want to know how fast your connection is, there is a really good website that will tell you. It's http://www.speedtest.net and you can do several tests and compare your results with the rest of you area and the world. Don't bother writing the results down as there is a tab at the top that will show all your results. My test results were low by cable standards but were at around 1460 download speed and 400 upload speed. For me, upload speed is important as I upload a lot of pictures to my website as you must know. You can watch the Marketplace show on-line at this link. Of course, don't bother watching it is you have a low speed connection but if you are a regular visitor of my site, you are probably not on low speed since even this page is heavy. With a 56k modem, this page alone takes almost 5 minutes to load.
LTHC Goalie Glenn Hogan Turns 60
Although he only actually turns 60 on Wednesday, his family and friends surprised him a bit early on Friday with a party. Click here for a slide show of 40 pictures.
More Pages from the Bob Normoyle Scrapbook
I have added 15 more pages of the scrapbook which is now at 60 pages. When finished, there will be over 80 pages posted. There are some repeat articles but I am posting them as is except for some touch ups. Below is a sample of some of the pictures you will find there. The picture was in the September 6th 1972 Victory. Go to the Scrapbooks link on the bottom left to see all the pages.
In the middle of this picture, you will notice Bobby Fordham who recently got honoured by Two-Mountains city council in their first Recognition Awards. Click here for the full story and the list of the four others who were also awarded this special prize. Included in the five, was Nelson Lavallée who was honoured posthumously for his fine volunteer contributions to the community. Congratulations to Bob and Nelly and the other 3 awardees.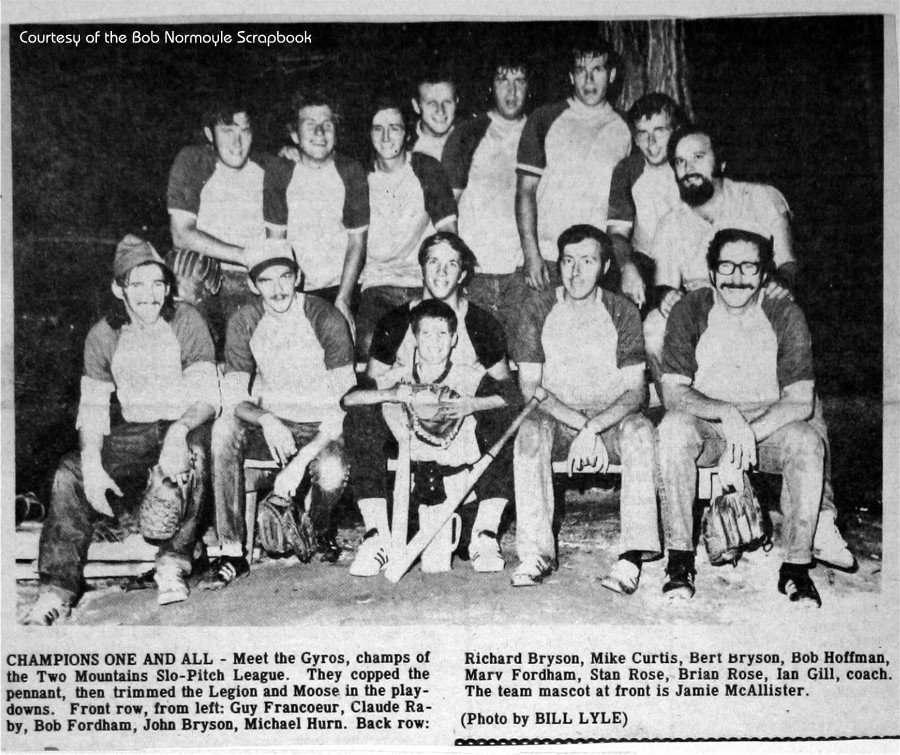 More Bird Pictures
Here's a link to few pictures of a Pileated Woodpecker taken by Richard Dumoulin of Two-Mountains. He's got a couple of great close ups that he took a couple of weeks ago. Here is the link.